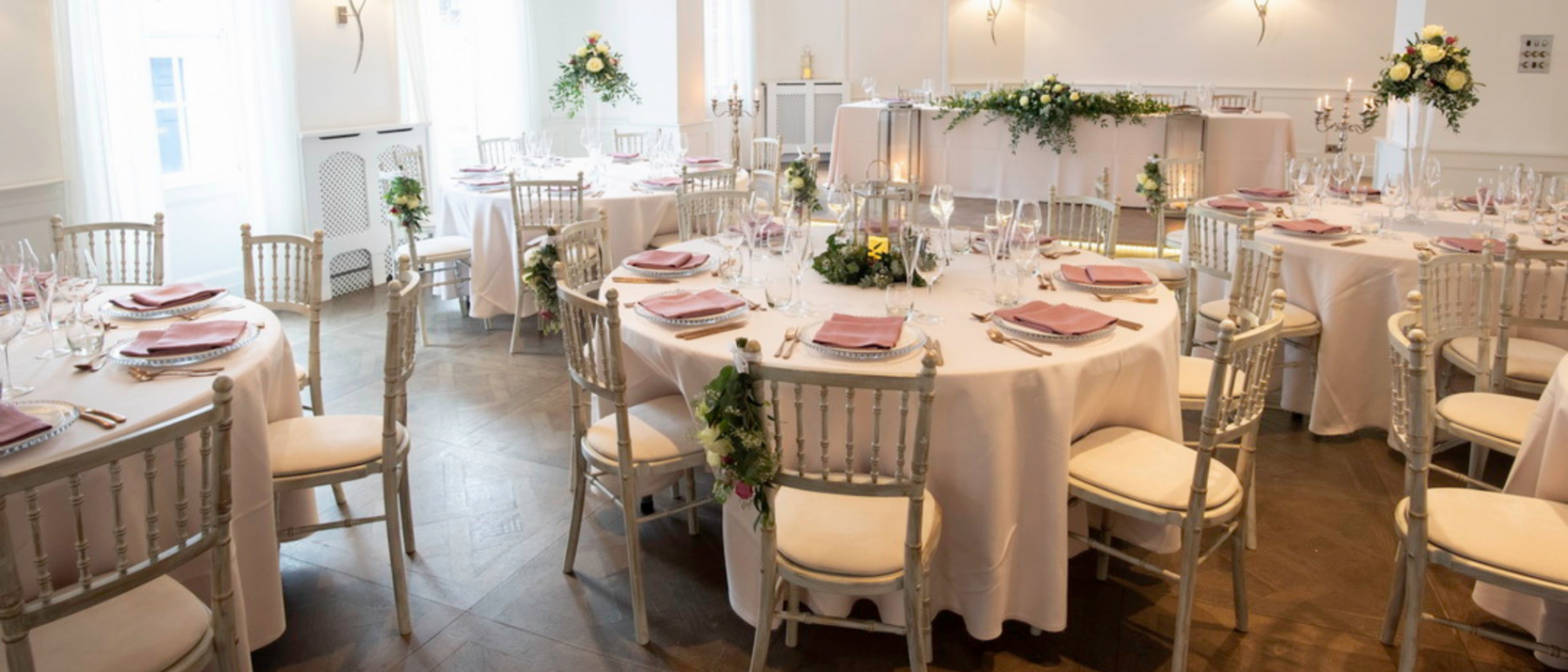 Whatever your event, getting the right style of furniture is crucial. Not only does it determine how and where your guests sit or mingle, having the right table also helps to create the desired atmosphere. So which style of table is right for your event? Have a read on for our advice depending on the style of your event:
Event Type: A formal dinner (Weddings and corporate dinners)
Whether you are having a wedding or a corporate event, a large round table is the traditional seating for a formal dinner. It's the perfect style to seat larger numbers and allows the guests around the table to talk easily.
A round table set up also allows for easy organisation of a seating plan, so that your guests know exactly where to sit.
Round tables comes in various sizes, and for formal dinners we would suggest either a 5ft table which seats between 8 and 10 guests or a 6ft table which to seat between 10 and 12. However 8ft tables are also available for up to 16 guests.
Event Type: Informal networking or an intimate cocktail party
A poseur table is a tall table with a small surface. They take up very little room and are designed to stand at rather than sit. Although poseur stalls are also available for those wanting to take a load off their feet.
These tables are ideal for a party where you want to encourage your guests to move around the room, mingling with various people. There is no need for any formal place settings on these table as they are purely there to rest your drink on.
You may wish to mix in some small coffee tables and comfy seating for anyone wanting to sit for a longer catch up.
Event Type: Casual but sizeable
Long trestle tables are perfect for when you need to seat a large number of people, but don't want to go down the formal round table route. They can create a dramatic look in a room depending on how they are positioned.
These are perfect for slightly more casual events such as school reunions, birthday parties and banquets, but are also great for a wedding where a more dramatic look is desired.
The tables can be arranged in various formats within the room, there is the traditional long banqueting style down the centre of the room, or you could put them in a U-Shape around the room, or even laid out in a chevron for a brilliant wedding look.
Event Type: A rustic affair
Our vintage trestle tables have always suited more rustic events, from beer tastings and garden parties to large family gatherings. But in more recent years these tables have also become a very popular choice for a more rustic themed wedding.
They look beautiful adorned with foliage down the centre and a boldly colour napkin.
These tables are also the ideal pairing for a more rustic venue, whether that a marquee or a barn venue, these will be very in keeping.
Event Type: Afternoon tea party
Style of Table to Suit: Square
This isn't an option seen quite so often as many people don't think of it, but two trestle tables put side-by-side creates a large square table, perfect for a slightly more informal party still requiring formal seating. The great thing about a square party is that your guests can all socialise, but there is also plenty of space for food to be laid out in the middle for sharing.
A note on chairs
Now that you have chosen which style of table fits your event, don't forget to also have a think about the perfect chair. Whether you want a formal chair for a beautiful aesthetic or a simple bench for a more casual gathering, the decision will set the tone for the event and how you wish your guests to enjoy it.
For more information on the chairs available, have a read of our blog 'Finding the perfect chair for your big day'.
Whatever the event, from weddings and christenings to corporate fundraiser cocktail parties, we can help you find the right furniture. Get in touch with Co-Ordination Event Hire today for more information on any of our products for hire.