Tell people you are planning a wedding and one of the first things they will ask you is 'have you got a theme?' Whilst the word 'theme' often conjures up ideas of distinctive concepts such as 'Disney', 'Lego' or 'Under the Sea', in reality a theme can be much more subtle and is really just something that helps you set the tone for the day. It may be something as loose as 'vintage' or 'autumn', or is may be something more specific such as '1920's' or 'nautical'. Some people find having a theme restrictive, but others find that having a hint of a theme helps them to structure part of the day from bridesmaid dresses and flowers to what food to serve. If you're at the beginnings of your wedding planning and a trying to work out how to choose a wedding theme, then read on for our top tips.
Consider your venue or location
It may be that you haven't picked a venue yet and are looking for a venue that perfectly fits your chosen theme!
However, if you have already picked your venue then this can be one of the best places to start when trying to choose a wedding theme. Does your venue already have a specific feel or inspiration behind it? If so then you may wish to consider this as it might be that your venue jars with certain themes. For example a beautiful historical manor house may not be the easiest setting for an ultra-modern theme, but may be perfect for an elegant traditional wedding. Or it may be that your venue has a certain aesthetic or location… If you are getting married at a yacht club for example then you may like the idea of going down the nautical route.
This beach themed wedding worked perfectly with the sea front location of The Brighton Harbour Hotel.
Photo courtesy of Sarah Wenban featuring beautiful foliage from Tony Dunn.
The season
Have you chosen your wedding month for a particular reason? If you have chosen a March wedding date, for example, then the chances are that you are rather fond of spring colours. Or is may be even more specific than that… Have you picked a date very close to a favourite holiday such as Christmas or Halloween? If so then why not consider letting these inspire your wedding theme. This doesn't mean that you have to go all out with a Christmas themed wedding, but it may be that you like the glitz and romance of that particular time of year.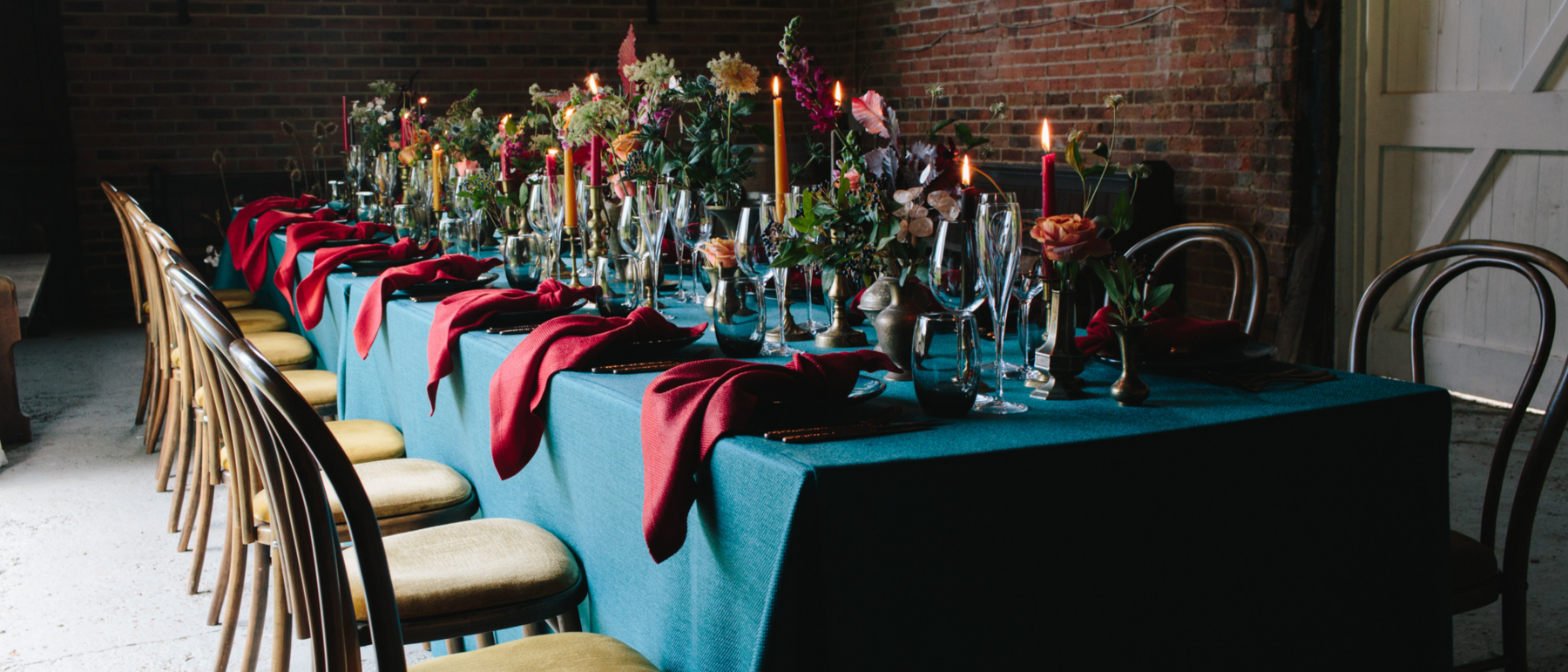 Autumn has become a particularly popular time of year, using the autumn colours all around as inspiration.
Styling by The Toast with flowers from Tigers to Lilies. Photo courtesy of Hayley Rose.
Your personality – What screams 'you'
The most important thing to consider when choosing a wedding theme is yourself and your partner. Choose a theme that represents you both… Your likes, your hobbies, your personalities. Perhaps you are both serious bibliophiles and want to represent your love of books at your wedding. This may mean naming your tables after your favourite works of literature, using special quotes on your stationery, or even having book themed table centrepieces.
It may even be something as simple as you and your future spouse loving nature and wanting to be sure that your wedding is as natural feeling as possible, with wild foliage on the tables, or perhaps even an outdoors wedding.
Favourite quotes made a lovely addition to your wedding stationery.
A wedding stationery suite from The Wedding Print Shop.
Colour likes and dislikes
The likelihood is that you could name colours you do like rather easily. But sometimes having a think about colours you really dislike can help you rule out certain themes. Hate pink? Then choosing a traditionally 'pretty in pink' romance theme probably isn't going to work for you. Not a fan of red? Choosing a theme that is going to lend itself to an abundance of red roses probably isn't the wisest choice.
Have a think about the colours that both you and your partner love. Perhaps write your own lists separately of colours that you would like to include in your wedding, The compare your lists to see if there are any crossovers.
A 'beautiful blush' wedding at Tilgate Park.
Photo courtesy of John Scofield. Shoot put together by Empirical Events with flowers from Escape to the Cutting Garden.
Budget and Cost
There is no doubt about it, some themes are going to be much more costly than others… Particularly if it is a theme that requires you to go all out. Perhaps you want a Hollywood glitz theme and are more than happy to spend a fair bit of your budget achieving your desired look. Or perhaps handmade is more your thing and you want a theme that is going to lend itself to all of your personal creations.
If you have your heart set on a particular theme then finding a venue that is naturally going to work well with your theme can save you a lot of money. Love the 50s and want a rock and roll wedding? Finding a venue with a 50s vibe is going to be much more cost effective than choosing a modern venue that is going to require a lot of decorations to be brought in.
If you love the idea of a simple rustic wedding then a barn full of charm won't need many decorations added at all.
A Hollywood glam wedding, full of glitz at Pelham House.
Photo courtesy of Imogen Eve .Styled by KB Dream Events featuring floristry by Chirpee flowers and stationery from White Orchid.
Real weddings
Still completely stuck for ideas? Take a look at real life weddings, whether in magazines or in featured blogs on your favourite wedding websites.
Also, take a look at our 'Looks we love' page for some of our favourite event styles.
We hope this has given you some pointers in how to choose a wedding theme. Take a look at our 'products for hire' to see what equipment we could offer you to complete your wedding look. Or contact our customer service team for more assistance with your big day.