Still not decided on the theme for your Christmas table? While it's tempting to go with traditions, why not infuse a fresh, unexpected burst of colour this year?
Team Co-Ordination is here to introduce you to three stunning shades you wouldn't typically associate with the festive season, but will undoubtedly leave your guests in awe. Let's dive in without further ado.
Celadon Christmas Table: A Winter Wonderland in Green
Imagine your Christmas table capturing the serenity of untrodden snow with an enchanting touch of celadon green. We dream of the world outside transforming into a snowy canvas. But your table can mirror this natural beauty, whether we're blessed with a white Christmas or not.
The gentle, cool tones of celadon green are reminiscent of fresh pine leaves. Picture your guests sipping from sparkling green tumblers and patting their hands with crisp seafoam signature napkins, against a backdrop of pure white signature tablecloths.
And how about adorning your table with frosted holly and glittering miniature Christmas trees for a sprinkling of extra magic. The result? A festive table that twinkles with the allure of a winter's night and stands out from the traditional red and gold decor.
Royal Blue: A Bejewelled Extravaganza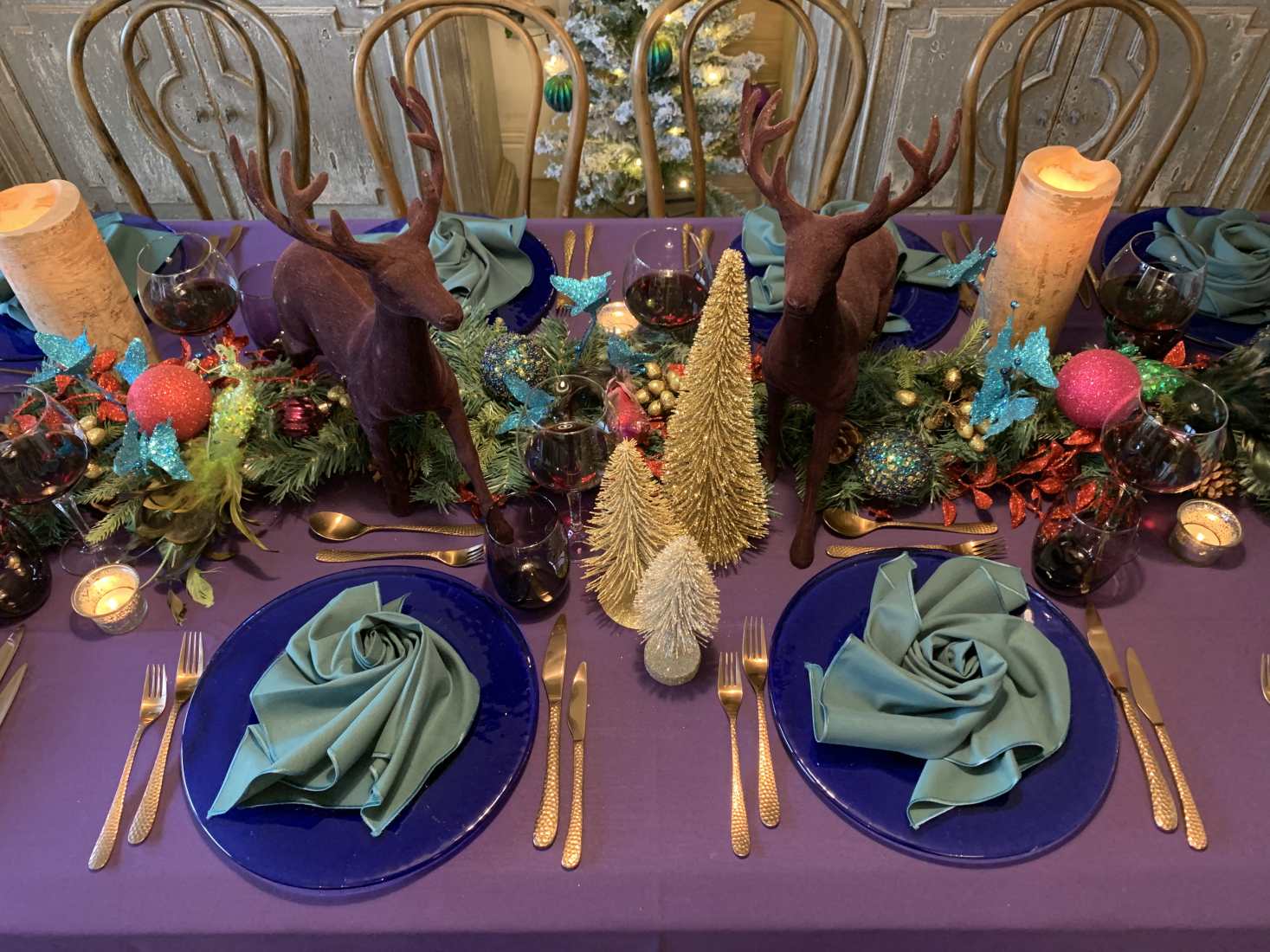 Look no further than royal blue if you've set your sights on making a bold statement. Its richness has a majestic elegance that can turn your Christmas table into a bejewelled extravaganza. What's more, it's as simple but effective as translucent blue glass charger plates topped with Wedgewood signature napkins, creating a striking contrast, especially on an imperial purple signature tablecloth.
In addition, why not enhance the brilliance  by adorning your table with shimmering baubles in multiple contrasting colours? The interplay of shades and the opulent charm of the royal blue will transform your table into an unforgettable masterpiece.
Baby Pink: A Sugar Plum Fairy Affair
If you're looking for charming and elegant table inspo, then move over Nutcracker and enter baby pink, to transport your guests into the world of Sugar Plum Fairies. Enchanting light pink signature napkins, pretty pastel rose pink glass charger plates and chunky pink candles are just a few elements you need to set the stage. And pair them with gorgeous hammered handle Liza cutlery in a silver finish to add a shimmery iridescence.
All in all, it's a classier, more charming take on the year's runaway bubblegum pink  Barbie trend. Moreover, it will leave your table looking like something out of a fairy tale rather than pop culture.
Go on, we dare you to be different this party season! These unexpected colours are sure to add a highly personalised touch. So, why not step out of the traditional Christmassy comfort zone and create a table that's as unique as your festive spirit?
There's snow place like Co-ordination Event Hire for all the contemporary or classic crockery, cutlery, glassware and array of coloured linens on your seasonal wishlist. Get in touch to sleigh your Christmas table, deck your halls and make your holiday HQ shine.